The Juice of God's Future
A downloadable game for Windows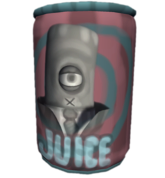 We're not an evil company. This world suffers from overpopulation and we're solving that. What do we do here? Well, I suppose you'll find that out when you arrive. Now, you're looking a little thirsty; get some juice and drink up...
Did you make a YouTube Let's Play? Paste the link in a comment, it'll show up right on the game's page that way.

Wanna join my Discord channel? C'mon over and we'll talk about whatever you'd like! https://discord.gg/Gfcvaqw

Font credits
Old Newspaper Types by Manfred Klein on DaFont
J.D. Handcrafted by Emerald City Fontwerks on DaFont
JD LED3 by Jecko Development on DaFont
Download
Click download now to get access to the following files:
Comments
Log in with your itch.io account to leave a comment.
Nice game. I like the little world and atmosphere you created.
good job, i really like it!, a bit short but this is a really cool idea
Hey that's awesome, this is the first review I've seen of it. It's well written too, thanks :D
#resistTheJuice ;)

PS For anyone watching, please consider subscribing for a copious amounts of indie games.
I enjoyed this game a lot! Had a great concept and, was well executed. It was simple to play but, was very interesting!
This was a fun game, just don't juice me.